1/15/2008 07:54:00 PM Posted In
Freebie
Edit This
Hi Ladies!
Not only will can you get the template for free, but you can also earn an add on!!
This month LOVE is in the air ... we're all getting ready for Valentine's Day, aren't we? I know I am as it's my 1st year anniversary!!! Mike just bought me a house ... I guess that diamond tiara is out, huh? *snickers*
Okay, I'm gonna change things up a bit this month for the
Template Challenge
... You'll be given this template to work with:
Now you are free to use any kit to complete the layout - however, if you purchase my "Valentine Wishes"
and use it with the template to complete a layout and post it - I'll then send you the link to the add on to the kit! It should be packaged up by tomorrow and I'll post the preview - but I guarantee that you will LOVE LOVE LOVE it!
So, how's that deal? Free template and a free add on??? Oh yeah - the kit is only $3.99!! Come on, what are you waiting for?! This challenge will run thru 2-14-08 ... Links will be sent out after this challenge has closed.
Go to the template challenge forum to get all the details!!
JFTSOI Forums
I hope to see some of you join the challenge!!!
SPECIAL NOTE: I've gotten some notes from folks who can't get into the forum. Registration is pretty straight forward - you must answer the question that is asked and correctly type it in. The answer is provided, just type it in without the quotes. If you should have any issues, please email and I'll get you set up. If you email me, please send me the user name that you used to register with. Thanks!
Email Me
While I'm talking challenges .... let me show you my other ones!
Quick Page Exchange
- you'll be surprised at what you'll get for participating - anyone who buys the featured kit, "Antiqued" (reduced 20% for the duration of the exchange, now only $5.59) and creates a layout to share - will also receive the Add On (valued at $3.99) for free after the exchange is over!!! How cool is that?
The Kit: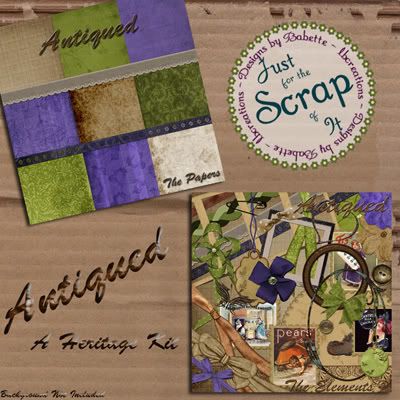 The Add On:
Heritage Challenge
- This month the theme is Vintage Weddings! Dig out those awesome vintage wedding shots and create your work of art today!! Participation gift is a coupon good for $2.50 towards your next purchase of $5.00 or more in my store!!
Artsy Fartsy Challenge
- This month we're concentrating on Abstract Art - move out of your box and have some fun!! Participation gift is a coupon good for $2.50 towards your next purchase of $5.00 or more in my store!!
So, come on over and sign up!! I'm looking forward to seeing everyone's creations!!