3/08/2008 04:12:00 PM Posted In
Freebie
Edit This
Hi Guys!!
Happy Saturday! Hope everyone is doing great! I've been busy, busy - between the new house, contractors, ordering stuff for the house (OMG - how expensive is carpeting?!!), redesigning the site, and competing in the designer challenger over at Purple Paper Flowers - my life has certainly gotten more and more hectic! *giggles* But, it's all good and I'm REALLY looking forward to getting moved into the new house (oh dang! I have to start packing too!!). Heck, I'm really looking forward to NOT having to deal with contractors. LOL
My 3rd challenge is uploaded to PPF - take a look:
What do you think?? If you like it, I'd very much appreciate if you took a couple of minutes and left me a comment and your vote!!
Rate My Kit at PPF
Many thanks to those of you who have been commenting and rating me! I'll be starting the next challenge today! No rest for the weary!! LOL
*** LAYOUT SHINES ***

I recently sponsored the "First To" at Hummie's yahoo group. One of the contestants & prize winners (Ellen) created the most adorable layout with her prize (I sponsored with Antiqued and the add on) and was gracious enough to allow me to share it with everyone.
Isn't it great? And goodness, isn't that little sweetie just gorgeous?!
***FREEBIE TIME ***

Aaahhhh .... Here it is! The last in my "Simplicity" Template Series!! This last template has room for 7 small photos. The glitter flourish can, of course, be removed to place a large photo or for journaling. I've really enjoyed creating this series and I've very much appreciated all the feedback - it's really awesome to know what you all think of my products. So, here's a peek: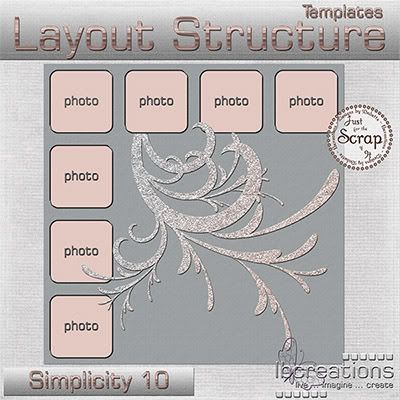 I'm going to leave this up & available for 48 hours. On Monday afternoon at 5:00 pm, Eastern Standard Time, the link will be turned off. Again, thanks for all the comments - keep 'em coming! *smiles*

THIS GOODIE HAS EXPIRED

Please enjoy - and remember, I'd love to hear from you all! Send me your layouts and I'll post them on my blog!! Once more, thanks so much for taking the time and rating me at PPF!!

Have a GREAT weekend!!