8/10/2009 01:19:00 AM
Edit This
Hey all! I hope everyone's weekend was wonderful! I stayed pretty busy ... but I did manage to go swimming on Friday afternoon! I had a great weigh in too ...
I lost another 3.4 pounds!!
Definitely a great way to start my weekend! Nothing like a lower scale number to make a person happy! LOL LOL
Oh, and guess what??! I've been whining about getting a new refrigerator and Mike said we could go look at some. Well we headed over to Sears (they were having a sale) and OMG OMG OMG ... look what we bought!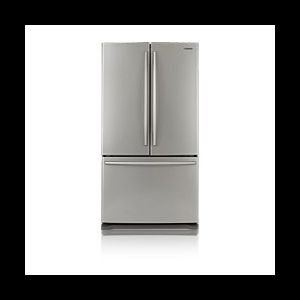 Isn't it awesome? It's a Samsung French Door with a Bottom Freezer! It's really big too - 25.8 cubic feet. We got a great deal on it plus no interest for 1 year! It's being delivered on the 25th ... I can't wait!! If you want to go view the specs,
click here!
I've also been busy working this weekend ... I've got 20 new products to get into the store now! DSW is still down ... and I hate to not have all my products in the stores at the same time ... but I'm not sure how much longer I'm going to hold out! LOL
I'm wondering if you guys like GRAB BAGS any more ... the last one I did had very little sales and made me wonder if it's worth doing anymore - I'd love some feedback from you all! If it's positive, maybe I'll take some of those products and make a grab bag!
I've gotten some lovely comments concerning the tutorials. I'd really like the thank everyone for the compliments. I'm really happy that you are enjoying them and will be happy to try to make more as I can. Remember, you can request something and I'll put it on my list!
So, I'm guessing you would like to know who has won my 3rd blog challenge? LOL
***** Blog Challenge #3 Winners *****
Yes, there's still an "s" (as in plural) in the title! I guess I just like making people happy and I'm not ready to stop at one just yet! LOL The two lucky ladies this week are:
Madlin and Marisol
!!
These ladies will be issued a coupon for
"Blendables, Vol. 5", a $7.99 value
.
Blendables contains 6 textured overlays. This is CU/S4H-O/PU. Congratulations ladies! I hope you enjoy the goodies!!
Thanks so much for commenting on the blog!
Look for an email from me containing your coupon codes!
***** Blog Challenge #4 *****
Want your chance to win?
It's easy to do! All you have to do is
POST
a comment
ON MY BLOG
(go to the top of each post to comment on that particular post). Oh and remember,
please make sure there is a way for me to contact you
!! A winner will be selected randomly from ALL the comments of that week! Winners will be announced NEXT Monday. In addition to posting the winners on my blog, winners will also be contacted and given the happy news via email or their blog - depending on the information I have. Individual coupons will be issued (from one of my stores) to each winner for the prize.
Now I bet you want to know what you'll be playing for this week, huh? This week's challenge prize is Vintage Postcards!
Vintage Postcards is a $4.99 value and is licensed for CU/S4H-O/PU. These beautiful postcards come from a family collection and were never used. I found them among a bunch of old photo and couldn't believe it!
***** Tutorial *****
Debi requested this one! She wanted a tutorial that would explain how one uses a Page Template. Templates are great time savers as well as helping a scrapper step out of their comfort zone.
I included a template in this tutorial. Please remember that my tutorials and included materials are for
PERSONAL USE only.
Download Tutorial
***** Blog Gift/Freebie *****
Of course I couldn't forget a CU freebie, could I? LOL I've got another texture overlay for you this week! This is licensed for CU/S4H-O/PU.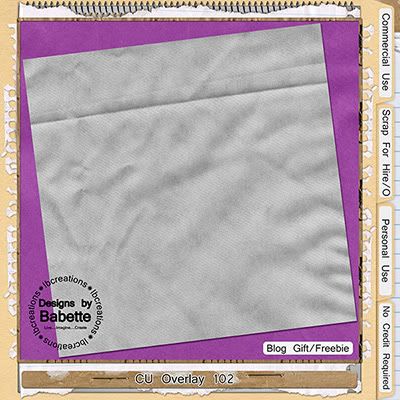 - EXPIRED, sorry!
I hope you enjoy the goodies! Hopefully I'll have some new products to show you soon ... or maybe a grab bag! You'll take care and I'll be speaking to you soon!
Hugs,
Babette