1/18/2010 03:47:00 AM
Edit This
Hi all! I'm back - and doing well! I had surgery as planned and although sore I'm doing pretty well. They did have a problem waking me up though ... I was in recovery for 5 hours instead of the 45 minutes they told us to expect! Apparently I was in quite a bit of pain and the nurses ended up shaking me awake ... so it seems I'm very sensitive to anesthesia now! The doctor feels he got all of the tumor and I'll be going back for an MRI in 30 days. I got home Saturday morning and basically just slept! I'm not supposed to drive, lift, bend, etc for the next week and I've got some lovely pain killers to make the days a blur! lol
Thanks to all of you who have written me and shown such care and concern - your prayers were so appreciated!
Since I haven't put anything in the stores for quite a while ... I thought I better start doing something about that! I've got a backlog of 45 products to get in there - but I thought I'd start off with some Valentine/Love/Romance themed products. I've been doing quite a bit in Illustrator - you just have to love how crisp everything is when created in that program! I've created a new collection "Heart 2 Heart" which consists of 4 different product packs. Volume 1 is uploaded and is ready to go!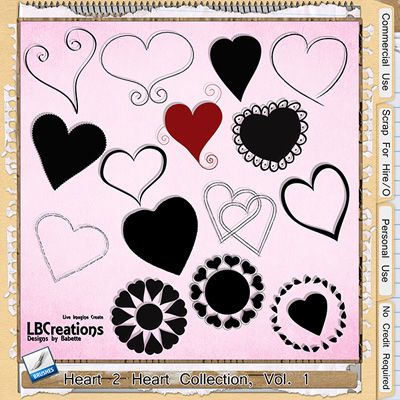 The first in a four part collection,
Heart 2 Heart, Vol. 1
is a lovely set of doodle brushes perfect for any romance/love themed kit. These brushes are very large - measuring 2500 px (8.333 inches) on the largest width - you will have complete control of your designs with these! Included are 12 different heart shaped brushes all created in illustrator as vectors then brought into photoshop and created as brushes for your use. These adorable heart brushes feature different edges - straight edges, scribbles, scratches, torn, deckled, dotted, ribboned, and swirled! As a bonus, 3 "heart" flowers/circles are included for a total of
15 brushes
.
Pngs are included for non-Photoshop users.
Created & Saved at 300 DPI. Commercial, S4H/O, & Personal Use.
The best part?
Heart 2 Heart, Vol 1 is on sale 25% thru Wednesday the 20th!!
Priced at 6.99, get yours during this introductory period for
only $5.24.
Available at:
Commercial Use
~OR~
DigiScrap Warehouse
Here's some close ups: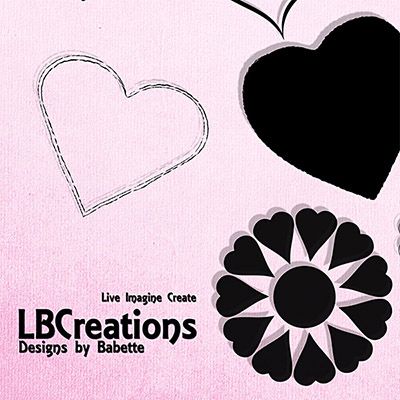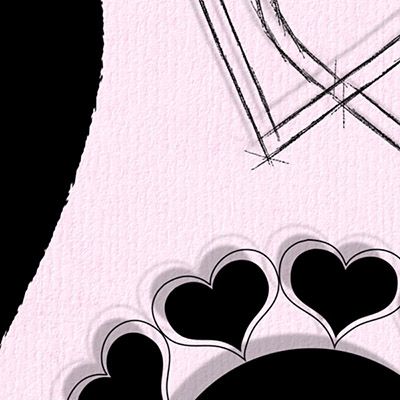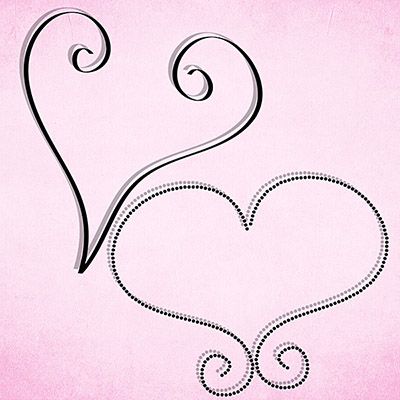 These will be perfect for any Valentine Kits or layouts that you're working on - don't wait get these while they are on sale!
Again, you can purchase this pack for only $5.24 at:
Commercial Use
~OR~
DigiScrap Warehouse
I've been giving a lot of thought to my blog samplers/freebies. For several reasons, I've decided to go back to "limited time" only. I'm sorry if anyone misses one, you might consider following the blog so that this doesn't happen. Unfortunately, there are groups out there that consider downloading freebies and sharing them an "okay" thing - I'm hoping that offering them on a limited basis will make it harder for these folks. I'm going to leave what's available on the blog right now thru the 21st - then everything will be gone ... so please get what you want now before it's too late.
So for today's free sampler I decided to make an overlay with a couple of the brushes from "Heart 2 Heart, Vol. 1." I think it came out sweet and will be a great background, or you can make mats, tags, etc. out of it. It's licensed for
Personal Use
only
.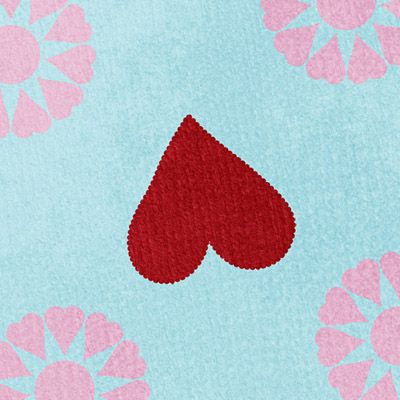 This sampler will be available for
3 days only
- EXPIRED, sorry!
Thanks so much for stopping by! I hope that you enjoy the sampler and that you consider buying my new brushes - I'm sure that you'll love them and use them over and over!!
Hugs,
Babette