8/13/2007 10:11:00 AM Posted In
Freebie
Edit This
Wooweeeee …. Do you know how exciting it is, for a designer, to see her creations being used?? This morning I made a cup of coffee, grabbed a croissant (my dh really does spoil me, doesn't he?) and proceeded to the PC. First thing I do is check email and what do I spy? Omg .. yes it is … links to layouts using my creations!!! Quickly I hop over to the galleries … and yes, yes …. Omg .. three of them!!! Tracy used my Funkalicious kit and one of my blue series templates! Tracy,from NZ, has really out done herself … take a look! And aren't they all gorgeous???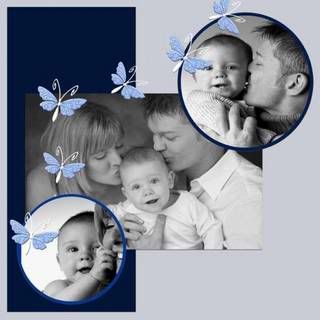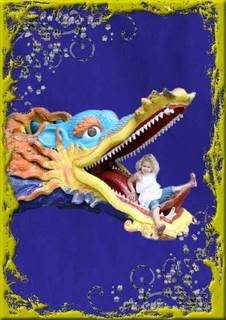 I want to send out a huge hug for sharing her layouts with me and us!! Isn't she the ultimate extraction Queen? Isn't her family adorable? Awesome job Tracy!!!!
Update on the store – it's all going VERY well over at
JUST FOR THE SCRAP OF IT.
We're getting closer and closer to having a forum and gallery! Woohoo – this is going to be so cool! Traci has done a fantastic job with all the technical thingies! And Brandi has created the forum (hey, I helped name stuff!) … so things are all falling into place! OH, and have I told you? We're going to have a PRIVATE forum for kids!! Yep, for ages 16 and under!! It will be locked and only kids, their parents, and we Admin folks will be able to read their posts! We wanted to make sure that the kids would be protected by anyone who comes into the site for malicious reasons! The kids will be able to post their layouts, read comments left to them, and will be able to post comments on all layouts as well. Also on the table? I'm thinking that each month a different kid will be made a junior CT member! There won't be any requirements made of them – we just want them to have fun!! Then they'd get a blinkie to show off!! Isn't that a cool idea?
My Midnight Garden Kit is DONE! 15 papers and 33 elements – gee, I guess I went a little overboard? I need to get them packaged and put up in the store – but, I thought I'd give you all a little preview of the papers.
So, what do you think? The other 10 papers are in the same color scheme, 5 very plain and 5 with a delicate floral pattern. I wanted to give everyone something to use!! LOL The elements include 3 frames, flowers – both real and drawn, ribbons, buttons, corners, glitter swirls, and more!! Again, another kit you won't want to miss, I'm sure. It lends itself to a variety of different styled layouts.
The CT Call is going well – have had some AWESOME applications! Please, if you're interested, don't hesitate to apply!
Doesn't matter if you're a newbie – we're just looking for talented folks!! Again, the email for that is babette@justforthescrapofit.com – send me your info BEFORE August 26th!
OH, and I actually SLEPT for 9 hours last night! Gosh, I almost forgot how good it is to sleep!! LOL Last thing I remember was laying on bed (not even IN the bed) and DH removing my glasses!! I really must try to do more of this sleeping thing, really make ya feel great!! LOL LOL
Today's FREEBIE is some word art! I made them all silver/grey scale so they should recolor nicely if they need to be. Just some fun and cute words to embellish your layouts! I can see them incorporated into a cluster, put on a frame, etc. Hope you enjoy them!
Cute, right? Grab them
HERE
before they are gone! OH, and make sure to look inside your folder … I've included this COUPON
good toward my products in the shop!! Tomorrow we're picking up with the 3rd in my Blue Series of templates – and there are bonus elements included with that one as well! I know you won't want to miss that!!
Thank you, thank you for all the wonderful comments I've been left!! You all are definitely STARS in my book! I get warm fuzzies each time I read them!! Really does encourage me – makes me know I'm on the right track!! And a very special thanks to the ladies that let me know that my link wasn't working within minutes of my putting up my blog! They really saved the day!
OOohhh … almost forgot! Remember, there's only 6 more days to get my grab bag!! It's FULL, bursting at the seams with stuff! A deal you can't beat for only 2 bucks!!
Get yours at
JUST FOR THE SCRAP OF IT
.
Okay, time for me to do a little work!! Yep, I need to figure out how to upload my products all by myself!! LOL Traci's gonna hold my hand … and hopefully, I won't mess things up! I'm finding out that a designer's work is never done! LOL You'll have a GREAT day and I'll cya tomorrow!! And remember; please … if you use any of my products … send me a link so I can show them off!!
Hugs,
Babette