8/14/2007 02:31:00 PM Posted In
Freebie
Edit This
Oohhhh … I'm really running behind!! Anyway to add hours to a day? I sure need them! The response to the CT call has been amazing! Many thanks to all of you who have already applied!! So much great talent out there! I'm so much looking forward to assembling the team and having some fun!
Andrea created a beautiful layout with my Sophisticated Chocolate kit – and woohooo her husband is coming home!! Give him a hug for all of us Andrea!! And be sure to thank him for all he's sacrificed for us!
Tracy sent me another layout she did with the Funkalicous kit – isn't it super?! Is her nephew not adorable??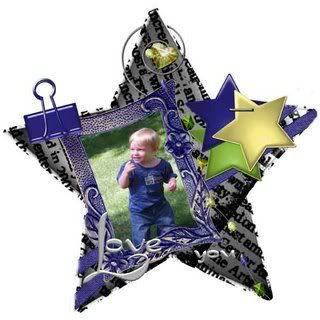 Otherwise, nothing too major going on … just busy! Creating, designing, business … well, you know how that goes! Did I mention I could use some more hours yet? LOL
Okay, short and sweet today! Here's today's freebie – the 3rd in the Blue Series of templates!
This one comes with bonus elements too! You can get for 24 hours (yah, I know … I always end up leaving it up a bit longer!) and then it's gone for good!
((So sorry, this freebie has expired))
Again, many thanks for all the great comments!! You guys are wicked cool!
Everyone have a super day and keep sending me those layouts!! I just love seeing them!
Hugs,
Babette