8/17/2007 01:48:00 PM Posted In
Freebie
Edit This
My goodness! Do I need a week-end break!! The CT call has been an overwhelming success!! Many thanks to all of you who have applied! It's going to be really tough to choose! In fact, I'm thinking I'm going to have to close the call early – just accept thru the week-end! So, if you haven't applied and want to …
get that application in!
This is shaping up to be an amazing team!
The site is almost finished!!!! OMG – it's gorgeous and totally unique! You guys just won't believe how cool it's turned out! Chat rooms were installed yesterday … just a few finishing touches and we're a go! That's right ROOMS – we have multiple rooms – each designer has their own! Plus, we'll have rooms for all sorts of other things! No more waiting to see if the room is available – we will always have available rooms! Woohoo … it's really happening!
JUST FOR THE SCRAP OF IT
is gonna take the world by storm! LOL Stay tuned for the grand opening info and news! Of course, the store will be open for business before the grand opening – just gotta load up the new store and it's a go! LOL The old store will stay up until new one is done. If you'd like to take a peak, the new links to the forum and gallery are working … go check it out! And hey, register while you're there!! This way to
JUST FOR THE SCRAP OF IT's
new forum and gallery!
Many, many thanks for all the wonderful comments! I know I probably sound like a broken record … but, I'm seriously so
appreciative
of those who take the time to comment! And such wonderful comments!! You guys are awesome and I'm so happy that you like my designs!!
Tracy has been really busy – she is completely awesome! Look, two more layouts created with my Sophisticated Chocolate kit: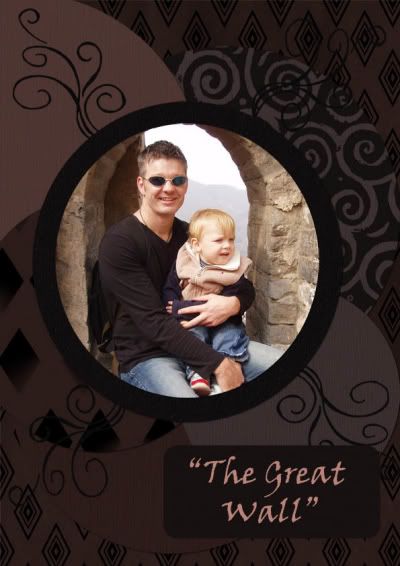 Aren't they great??? Cheers to you Tracy! Well done!!
I'm almost done with the new kit … come on people – send those names in for your chance to win it! Who ever I pick will get it for
free
– and it's a big one!! Scroll down to yesterdays post to see the colors again.
Today's FREEBIE is the last in the
Blue Series
- #5! And look, I created new packaging to match the store – cool, huh? Anyway, this 3 photo template includes
SEVEN (7) bonus elements!
You get … 1 Corner Swirl, 1 Set of Brackets, 1 Floral Overlay, 3 Brads and 1 floral swirl!! Take a gander:
Love what you see? Hurry and grab yours … cuz it will only be available for 24 hours before I put it in the store!!
((so sorry, this freebie is no longer available))
Okay, that's it for me!! Hope you have a GREAT week-end – have fun and scrap something! If you scrap with any of my designs … please send me a link!! I may have a surprise for Monday … will depend on what goes on around here! LOL You'll take care!
Hugs,
Babette