9/18/2007 10:57:00 AM Posted In
Freebie
Edit This
Hi All,
Hope everyone is doing well today. It's a quiet day here - finally! I'm working on a Halloween Kit - and I have to say, it's too cute! I'm having fun with this one ... I'm feeling like a kid with all those cute elements!! I should have it up in the shop in a couple of days.
Today I'm offering the last in the Purple Template Series - #5. Thanks to those of you who have left comments. I really love them - truly they are special and make my day - always nice to know when one is appreciated! *smiles*
Okay, here's #5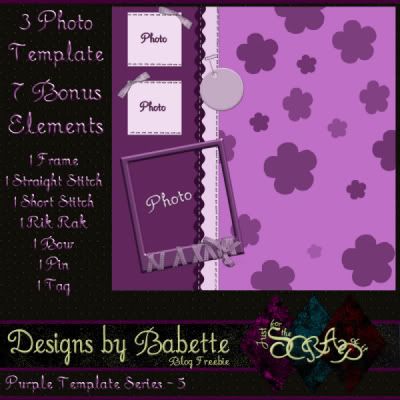 Love it? Must have it?
(((Sorry, this freebie is no longer available - please in the store))
Okay guys ... enjoy the template - I'd love to see your creations! I'm going back to work!!

Hugs,
Babette