9/19/2007 04:57:00 PM Posted In
Freebie
Edit This
Hi All!
Happy Hump-day!! Hope that all is going well for you! I've been busy trying to do a few things at once ... but, things are shaping up! I'm almost done packaging the Halloween kit - which has turned into another MEGA kit! LOL And todays freebie will be a small sample of it ... but, we're not up to that part yet!! LOL
I'm having a 50% off sale on my Mega Kit "Friendship Garden." At only $4.25 this kit is an amazing deal!! Included in this kit:
15 Gorgeous Papers – Patterns, Textures, and Plain to choice from!
5 Different Bows
7 Different Ribbons
5 Different Buttons
2 Different Button threads
1 Upper Case Flowered Alpha (not shown in preview)
5 Eyelets
5 Journaling Strips
1 Large Mat
1 Journaling note paper
6 Paper Clips
1 Friendship Garden Pendant
4 Photo Corners
2 sets of staples
2 Different Straight Stitches
1 Swirl Florish
1 Tag
1 Tag Rope
10 Different Flowers
7 Different Frames – including one cluster and one decorated
6 Pieces of Word Art
Take a look:
Oh, and you get this Alpa too!
You can't go wrong with this kit!! Hurry though, this sale is only going to last for a week - offer expires on the 27th!!
CT Layouts


Andrea has really outdone herself with her layout titled "
The Inquiring Mind." She used my
Funkalicious
Page Kit (except for pink paper) - and I think she did a fabulous job!! The photo was nominated for best photo over at GDS!! Truly, she did a great job on this!! And isn't her son a darling?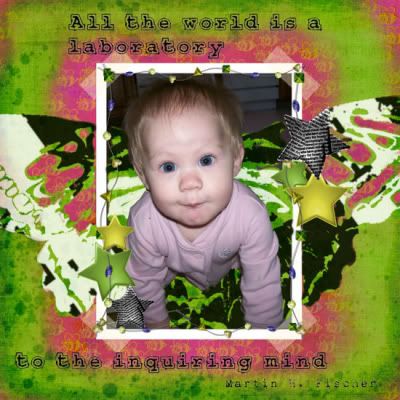 Tracy has created a couple of layouts using products from my Commercial Grab Bag - which is on sale until tonight!! The first layout is called "Sweet Child" and the second "Butterfly Kisses." Her daughter Ali is just adorable!!!!
Speaking of that grab bag ...
it breaks open tonight at midnight!!! After that it all goes into the store at regular prices - a $30 value now only $2!!!!! You don't want to miss it, do you? Visit the
STORE to check it out while you check out the mega kit! LOL

So, now the part you've been waiting for ... the freebie! Since I'm working on the Halloween kit (Halloween Fever) I thought I'd give out a small sampling of the kit! You'll receive 2 papers, 1 paper clip, 1 staple, 1 rik rak, 1 glitter button, a cat illustration, a frame, and a word art sticker!! Here, take a look ...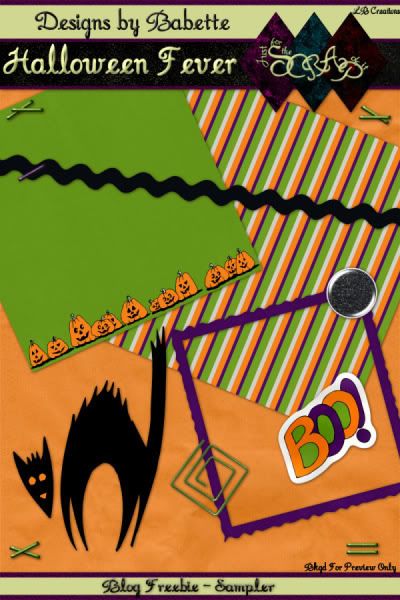 I'm having way too much fun making this kit! I'm going to leave this sampler up for a few days - so tell your friends to come over the blog and get theirs too!!

GRAB YOUR SAMPLER HERE


Okay, time for me to turn back into a pumpkin! I'd really love to see anything you guys make with my designs - just shoot me a message with a link!! Oh, and again ... thanks so much to those that left me comments - you guys really are awesome! Have a great day and I'll cya tomorrow!!

Hugs,
Babette