9/06/2007 04:18:00 PM
Edit This
I'm BACK!!!!!!!!!! Really I am!!
OMG … I can't believe I've been gone away from this blog as long as I have!! Many thanks to Donna --- who wrote and inquired if I was okay. There were a series of events, both personal and professional, that kept me away. The final glorious moment was ending up in the ER for half a day! Looped on Vicodin, I really couldn't do much but sleep! I'm fine now, and hopefully I won't have another week like this past one!
There has been so much going on, that I just don't know where to start! I guess I'll start with the MAJOR announcement!!
JUST FOR THE SCRAP OF IT
is having a Designer Contest!!
"So You Think You Can Design" will start October 1st – if you think you'd like to give it a try (and win a 1 yr contract with NO space fee) drop me an email at
soyouthinkyoucandesign@gmail.com
and I'll sign you up and direct you to the rules, regs and general info! If you've ever thought "I could do that" now's your chance to try it out! There will be 3 elimination rounds and 1 final – all the kits made during the contest will be given out as freebies to the community at JFTSCI – so make sure you register so you can get them!! The voting will be done by community members ONLY – the owners will only vote in the case of a tie.
We're also accepting applications from people who do not wish to participate in contest. If you'd like to apply to be a designer with us, please email me at
lovelybabette@gmail.com
– include a sample of your work as well.
Okay, here are a bunch of layouts to view!! First up are the non CT ones …
Here's another one from the Lips Smacking Delicious contest to win the Mega
… have you'll forgotten about the contest? 4 Shared shows that there were 272 downloads of this kit – I wanna see some layouts folks!! So, in case you didn't know about this contest, scroll down a few posts to August 26th to get this kit:
Then make a layout and submit to the
gallery
at the store for your chance to win my HUGE mega kit! You only have THREE days left (deadline to upload the layout is midnight Eastern Standard Time of Sept 9th) to win this amazing MEGA KIT!!!!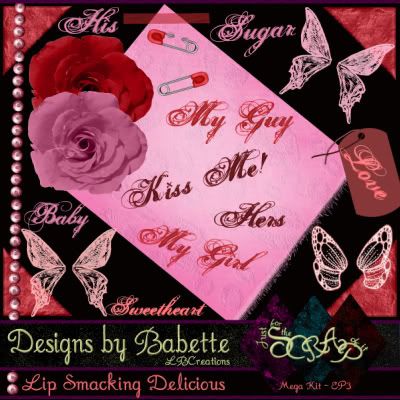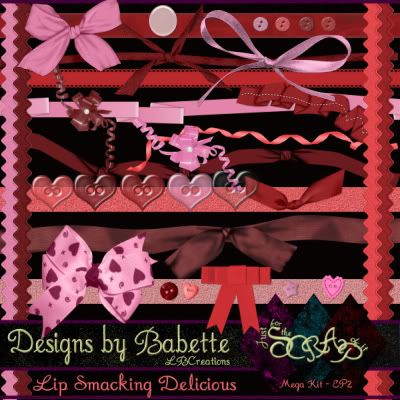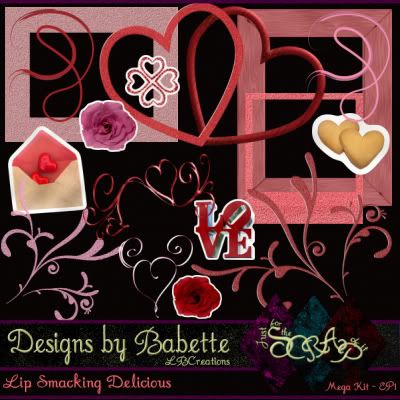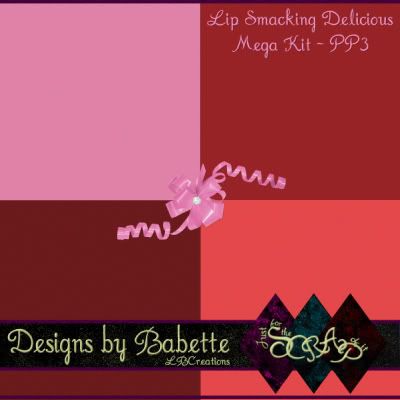 How awesome is this kit?? What are you waiting for???? Hurry, get your layout done and post it
HERE!!!
Here are some layouts from the CT – they have been hard at work!!!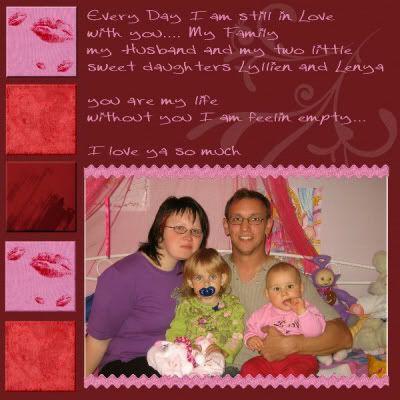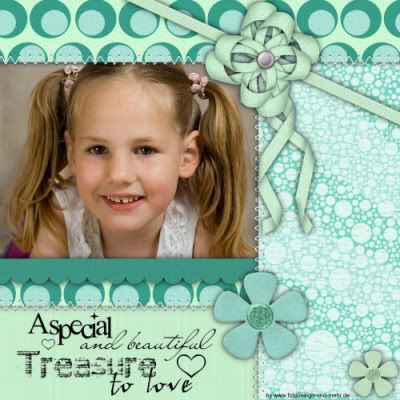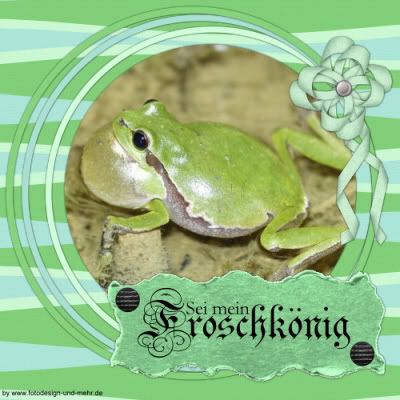 Aren't they wonderful??? I'm so impressed with them!! They really make my kits shine!
Okay, did you know if you register at the forum of JUST FOR THE SCRAP OF IT there are tons of challenges you can complete to earn awesome freebies???? Currently there are ELEVEN different challenges going on! Go take a look, I think you'll be very pleased! I'm hosting 3 of them - including the template challenge ... so if you like my templates ... you know where to go!!
JUST FOR THE SCRAP OF IT
I've got a bunch of new stuff up in the store - I thought I'd do a little shameless advertising! Take a look at what's newly available in my shop!!
First, some photo clusters - these are mostly full page ones: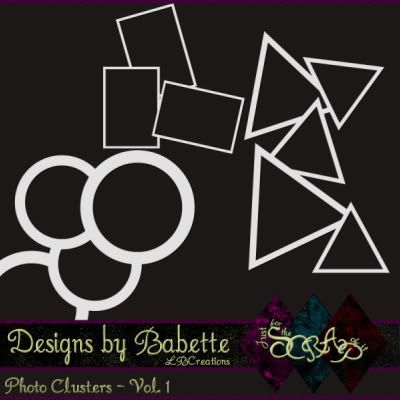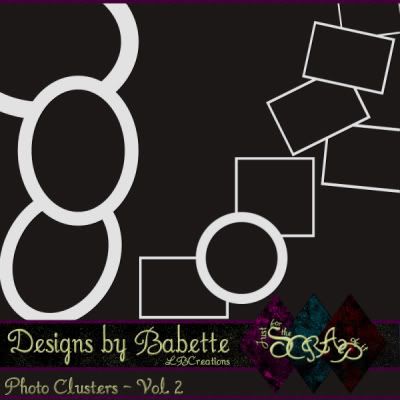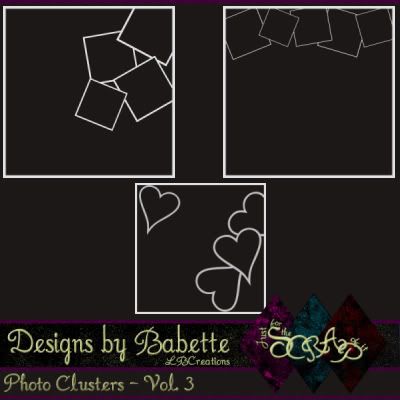 Some New Overlays: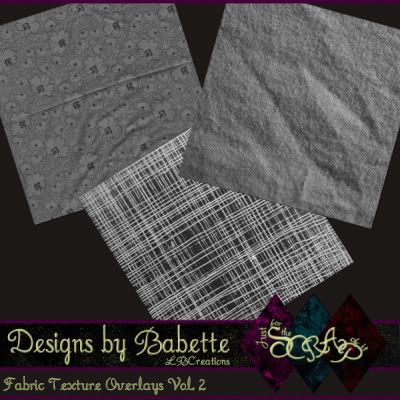 Some Decorative Photo Corners:
A New Mini Kit
Some Cardstock: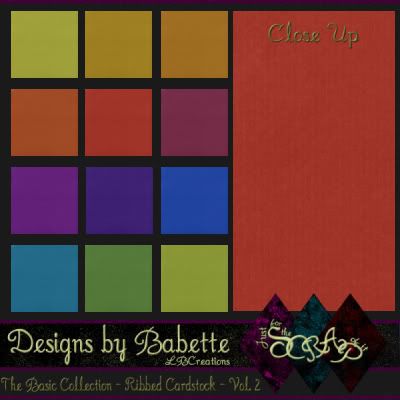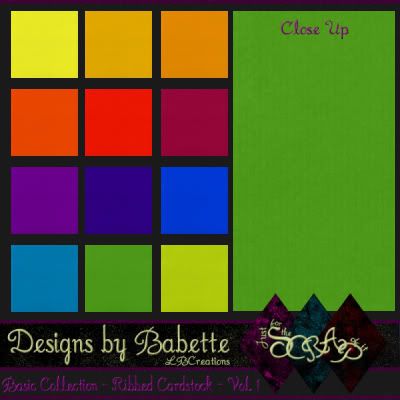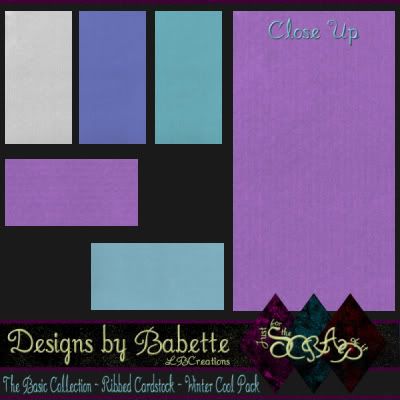 All these, and MUCH more can be found in
MY SHOP
- visit me soon!!
Okay, we're gonna do something a little different today for the freebie. I'm offering the new mini kit:
To the first 25 people who leave me a link, in the blog's comment box, to their layout created with ANY of my design kits (except Lip Smacking Delicious – since that's a contest by itself)! How easy is that? I can't wait to see all the layouts!!! Don't forget to leave me an email addy so that I can send the prize link info!!!!
Okay, time for me to take some more vicodin … so that means I won't be all that peppy!! LOL You'll take care … and I promise I'll be back tomorrow!!!
Hugs,
Babette