8/31/2007 12:59:00 PM Posted In
Freebie
Edit This
Hello Everyone!!
How are you all doing? Are we all excited? It's
FRIDAY!!!
I have treats for you today!! Well, besides the freebie that we'll get to in a moment! Again, I want to thank everyone who's commented – big huge hugs to all of you!!!
DRUM ROLL
- I'd like to introduce another new designer to the team!!
Dawne is a brand new designer – but oh, sooo talented! You can check out her designs
HERE!!!
– I'm sure you'll love them! She's an awesome person and is a wonderful addition to our family!
JUST FOR THE SCRAP OF IT
will be having a
STORE WIDE 50% off Labor Day
sale this weekend!! For three days (SAT, SUN, & MON) you can get everything in the store for half off!! How sweet is that?! You won't want to miss this sale – I've even added some products to the store! I'm starting a new "line" of products – Babette's Basics – items that you always need! Here's a look – I started with some cardstock:
Babette's Basics Collection – Ribbed Cardstock – Volume I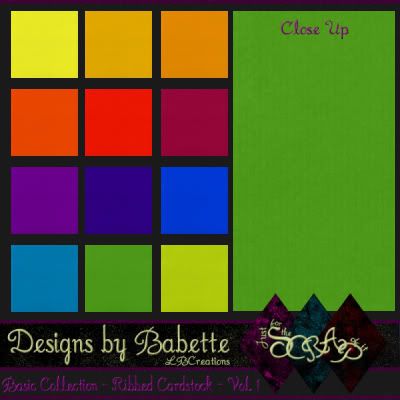 Babette's Basics Collection – Ribbed Cardstock – Volume II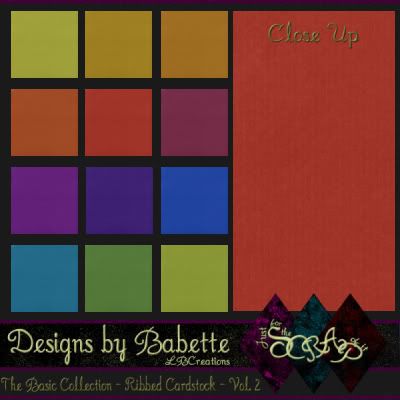 Babett's Basics Collection – Ribbed Cardstock – Winter Cool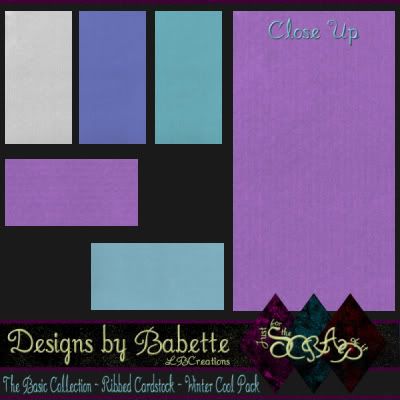 The first two have 12 papers each and are priced at $5 – so for 3 days you can grab these for only $2.50!!! Isn't that an awesome deal? The Winter Cool pack includes 5 paper and is priced normally at $2 – get yours for just one buck this weekend!!
I'll be adding to my Basics Collection all the time – so be sure to stop by the
store
and check it out from time to time!
Oh, and don't forget that my "Lip Smacking Delicious" Mega kit is normally $8.50 and only $4.25 – how can pass up a chance to grab that one?! It's loaded with 16 papers and 77 elements!!! Did you see that one? Scroll down a few posts to get a good look! If you've been holding off for a sale (and who doesn't love a sale?) now is your chance to pick up all sorts of goodies!! You can check out my store
HERE!!!
and pick up a few things!
One of the CT members, Tracy from NZ, used my 4th template in the Red Series – check it out!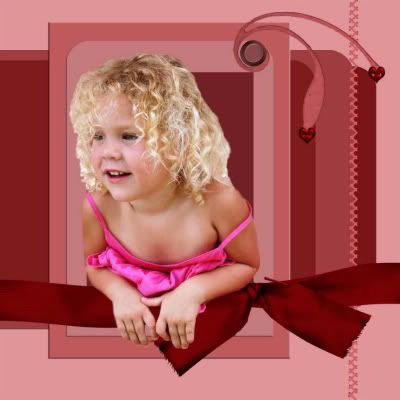 She pretty much used the template as is!! I would never have thought to do that! LOL Isn't her extraction cool? She's definitely the QUEEN of extractions!! If you missed this freebie – this weekend would be a great time to pick up for only 1 buck!!
Haven't gotten in any more layouts for the contest – are you all waiting for last minute?! LOL I'm so looking forward to seeing everyone's creations!!
Okay, the 5th and final template of the Red Series – what do you think?
This one comes with
SEVEN
bonus elements!! You get a slightly shabby dotted paper, 1 triple stitch, 1 ribbon, 1 brad, 1 button, 1 name plate, and 1 stick pin – how cool is that? You can't resist it, can you? You REALLY, REALLY want it, don't you? *chuckles* I had to break this down into zip files - one for the paper alone, the other contains the template. So make sure you grab BOTH zips – and remember, you only have
24 hours
before it goes into the store!!!!
((so sorry, this freebie is no longer available - please check the store))
Everyone have a GREAT weekend!! I hope to see some (heck, all!!) of you at the store this weekend – otherwise, I'll be back on Monday – and I may just have some new stuff for you!! You'll take care!
Hugs,
Babette