8/30/2007 02:09:00 PM Posted In
Freebie
Edit This
Woooohoooooo – I have the BESTEST hubby in the world! Guess who's the owner of a brand new 1000 gig My Book World II EHD?!! Yeppers, that would be ME! DH came home last night with it – sooooooo cool! Now I'll have plenty of space for everything! I can't wait to start organizing! Now I'll be able to use my 500 for personal use stuff and the 1000 for commercial and business stuff – awesome!! I also have a 160 for music – my desk is mighty crowded! LOL Between those and wacom pad … maybe I need a bigger desk??
Sheila asked (in her comments) what sort of commercial, designer products I had bought. Believe or not, tons of buttons! I love buttons and Royanna Fritschmann at Divine Digitals has the most gorgeous ones! Seriously, if you need some buttons – get over there and grab them as they are on sale! Hmmm … aren't I nice? Pushing someone else's store? LOL LOL LOL Let's see, I also got some cool overlays and actions. Although I make a ton of my own overlays, sometimes I just see something I must have! I also picked up some way cool glitter flowers – also on sale, although I can't remember the store! LOL Yeah, I'm an addict … but I could be addicted to worse things, right?
Okay … now here's part one of the exciting news I had…. Drum Roll Please …
Korib is one of the two designers that have joined our Design Team at JUST FOR THE SCRAP OF IT. Kori's a super nice person and her designs are adorable! Come on over to the
SHOP
and check them out – and maybe welcome Kori too!
I've gotten one more Contest Layout In …
How sweet is this? I just love everything about it!!
Sarah, a CT member, also used the "Lip Smacking Delicious" mini sampler to create this one: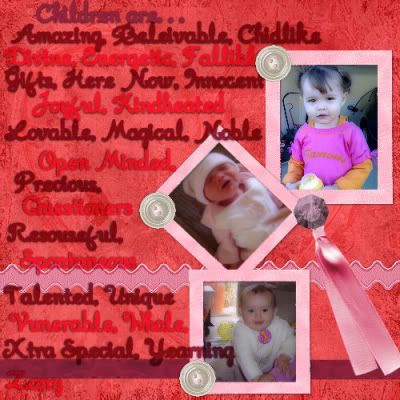 Isn't she darling as well?!
I know you guys can't wait for today's freebie - #4 in the Red Template Series. It's a one photo template with SIX bonus elements! I've included a ribbon/bow, a brad, a heart shaped button, a staple, a cross stitch, and a swirl! How fun is that? Take a look!
One of my CT members, Tracy, said I should have called this one "Class" – I think she may be right! I think it came out very pretty!! So, you like it and have to have it? Follow the to 4-shared … and remember this will only be available for
24 hours
before it goes into the shop!
((so sorry, this freebie has expired - look for it in the shop))
Oh, and speaking of the 24 hour turn around – someone asked how I measured the 24 hours. It's pretty simple … 24 hours from when I post. So, if I post at 2 pm on Sunday – it will be available until 2pm on Monday. Now, sometimes it gets left a couple more hours, but I've never taken it down early. All freebies are brand new items that I offer for free BEFORE I put them in the shop for sale – as such all my freebies are quality goods. But, I'm also running a business, that's the reason for the 24 hour turn around.
Thanks for all the wonderful comments! I'm touched every time I read how much someone likes my designs! It's so wonderful to know that I've made someone happy and have helped them create a special memory!! Definitely warm and fuzzy time!!
Back to work for me! I hope everyone has a great day!! I'll cya tomorrow!!
Hugs,
Babette