10/01/2007 03:17:00 PM Posted In
Freebie
Edit This
Wowweeee!!! So much excitement going on!! I haven't had a moment before now to sit down and post this blog!!! I'm not even sure where to start - I have so much to share with all of you!! Okay, I guess I'll start with my new awesome Autumn Mega Kit!! *grins* This kit comes with 222 MB's of goodies - over 150 elements, 18 papers, and 4 alphas!!! It's an incredible kit and for sure you'll love it - it's great for guy layouts as well!!! Take a look:
Not to boast, but isn't it lovely?? It's available in the
store now at a special price of only $5.00!! You don't want to miss this incredible deal!! This is a savings of $3.50 ... and even at it's full price it's a great deal!

**Special thanks to Catherine on the CT for turning my previews into this blinkie!!**
JUST FOR THE SCRAP OF IT has a new designer!!! That was my secret I couldn't share that week!!

Buddhini is an wonderful designer - you might know her from all the freebies she's given away the last couple of years! If you get a chance, stop by the forum and help welcome her!! And hey, stop by her store and have a look!
OOhhh ... and you don't want to miss out on this month's Challenges over at the forum!! I'm hosting 3 - TEMPLATES, COLOR, AND NUMBERS. My participation bonuses are pretty cool too - why don't you check them out!!
The designer contest
"So ... You Think You Can Design"
has STARTED!!!! The contestants were given their first round assignments today!! All the kits are due on the 7th - and they will all be freebies for the members of the community! How cool is that? And you won't want to miss voting for your favorite on the 9th and 10th!!! There will be 3 elimination rounds and one final round ... there's going to be major fun and excitement on the site!! Be sure to stop by often for updates!! All the contestants have been given this awesome blinkie, created by Anja - one of the contestants:
Pretty cool, huh???
** LAYOUT SHINES **

Ct members Andrea and Heather have been busy and have each created an awesome layout!!
"Love is a Fruit in Season"
From Andrea (using one of the papers and a frame from my Midnight Garden kit and a freebie mini kit of Buddhini's)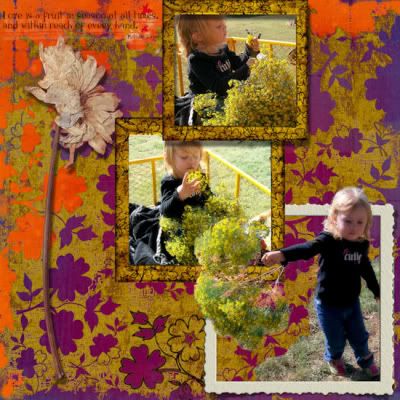 "Pimp Daddy"
From Heather (using my Funkalicious kit)
Aren't they totally awesome??? These ladies continue to amaze me!! You can tell how much care and thought they put into their creations!
**** FREEBIE TIME ****

You all have been VERY patient with me!! Today's freebie is a QP that I made from the new Mega Kit "Fall-ing For You." I do hope that you enjoy it!! I'm going to leave this one up for the next 48 hours!! So, send your friends over!! Here's the preview: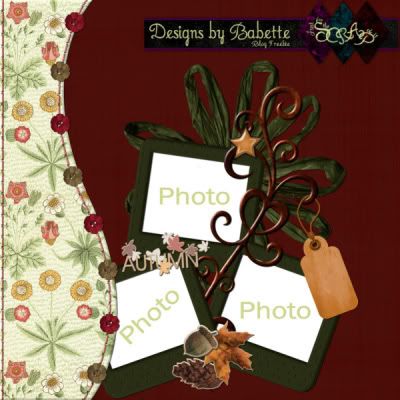 (((So sorry, this freebie has gone to the store))
Okay, I *think* that's all my news!! You'll have a GREAT rest of the day!!! I'll cya soon!!
Hugs, Babette