9/28/2007 05:49:00 AM Posted In
Freebie
Edit This
Okay, so I still can't make my announcement ... I promise, as soon as I can - I will!! LOL But, I've got plenty of other things to talk about today!! You're excited about that, right? *grin* First off, I want to share another of MrsBoyers layouts ... she used a frame from my commercial use line and my Midnight Garden page kit. You get to see her entire lovely family!!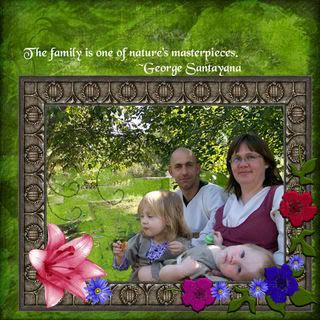 Great, isn't it? Doesn't she have a beautiful family?

Some of the ladies involved in the designer contest "So ... You Think You Can Design" have gotten together and created a Mega Fall Kit as a trial run!!! You all are the lucky WINNERS!! Take a look at all your can grab for free!!




To get all these kits ... start at Andrea's (MrsBoyer) blog ... you can follow this link
THERE'S ONLY TWO DAYS LEFT TO JOIN!!!!
Come on, what are you waiting for? Join in on the fun!!
Well, I'm working on a HUGE FAll Mega kit ... I kid you not, I've outdone myself ... and I'm not quite finished yet!! I hope to have it in the store by Monday! LOL However, I wanted to give a little sampler today ... I'm calling it ....
"Fall-ing For You."
I purposely kept this sampler monochromatic ... the color palette actually includes 8 colors! It's a beautiful kit and will be great for guys - as well as the ladies!!! Woohoo!!! Here's the preview:
It's available, only for the next 24 hours, Please enjoy it, and if you use it - I'd love to see your layout!!
((So sorry, this freebie has expired))
Cranberry Dazzle
had over 400 downloads ... and more than a few requests and/or inquiries of whether or not it would be a full kit. Well, it's the next one I'll be working on ... so stay tuned for it!! Many thanks to ALL of you who left such terrific and lovely comments - I appreciate each and everyone of them!!! You guys definitely ROCK!!
Best wishes for a fantastic week-end ... go out and have some FUN!!!
Cya laters!!!
Hugs,
Babette