10/26/2007 12:47:00 PM Posted In
Freebie
Edit This
Well, life got interesting around here .... we had a little bit of scare the other night - thought that DH might have had a heart attack! BUT, he's FINE and was just an anxiety attack!! So, after a night of NO sleep ... I wasn't in any kind of great shape! LOL Life's many twists and turns, eh?
*** DESIGNER CONTEST ***

There are 6 contestants left - all trying to win a 1 year contract with JUST FOR THE SCRAP OF IT. For this final elimination round, they have been given this painting by Van Gogh - Starry Nights - as their inspiration:
I've already seen one entry - and OMG is it fantastic! You are all NOT gonna want to miss these kits ... I think they are going to be the best ever!! These ladies are really out-doing themselves!! The gallery will open to the public on the 29th - downloading and voting will start then and run thru the 31st - the winner will be announced on 11/1 - make sure you vote when you download the goodies to keep your favorite!!
*** SALES ***

Today is the last day of the FANTASTIC FIVE sale. You don't want to miss 50% off these great kits!
Make sure you visit the store today!

*** NEW KIT ***

Pour L'homme Dans Ta Vie is finally done and in the store!!! This is a grown up and sophisticated kit - perfect for those special guys! This is a large kit - 8 patterned and/or textured papers, a full alpha, and 55 elements!! It's a whopping 87.5 MB's!!!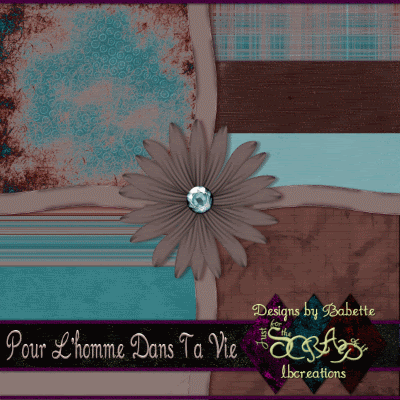 What do you think? As a special treat ... I've reduced the price by 20% for a limited time. Don't delay, get yours before it reverts to full price!!
*** FREEBIE TIME ***

Today I've got some more bits & pieces of "Pour L'homme" - these bits and pieces will eventually become an Add-on ... It seems I just keep creating pieces of this kit! LOL
I've included 1 puzzle piece border overlay, 1 bowtied button, 1 gem brad, 1 glitter shape, and 1 link frame.
You all have a great day ... and a wonderful weekend!!!
Hugs,
Babette