11/02/2007 03:49:00 AM Posted In
Freebie
Edit This
Hmmm ... it's almost 4 am here ... what am I doing up? Well, that's a REALLY good question!! LOL I've been working on my "Oohhh Baby!" kit and I'm just so thrilled with how it's coming out! I can't wait to release it ... I really hope that everyone will love it as I do.
Another reason I'm up is because we're getting ready for NSD - we're having all sort of cool things happening at the site - included a
50% off sale
that will last just 24 hours - so you definitely don't want to miss out!! The entire store -
including all commercial use
- will be 50% off!! How can you beat that? I really want to thank Liz for all the work she's done - she's been a God-send!! She's organized the entire hunt and done the ads! Huge (((((hugs)))))) going your way Liz!!!
*** CONTEST NEWS ****

We have a winner!!! Rosemade Designs won the contest!!
Everyone in the contest was a star as far as I'm concerned - it was a wonderful showing and all these ladies should be congratulated for their efforts!! Marcee (Rose Made) is already making plans for chats and special events - be sure to check in for more info!!!
*** 12 NEW DESIGNERS ***

How amazing is this?! You definitely have to come by and check it out - they are all uploading to their stores!!
*** NSD EVENTS ***

As I mentioned, we have a few events planned - I hope to see everyone at the forum!!
See? Told you that you didn't want to miss it!! There will be so many cool things going on!
My "Truth or Dare" Chat starts at 1:00 pm EST
This should be a whole lot of fun - and more prizes!!
Oh, and Brandi is doing BINGO at 3pm EST!!
Come on over and join the fun!!
*** SITE NEWS ***

Another month, new challenges!!! I've got my 3 challenges up and going - again, if you do all three of my challenges you will earn a 50% off coupon to my store - sweet, eh? You get 20% for one, and 30% for two challenges. Here's a look at my template for the template challenge:
Don't ya like it? Free template and you can earn posting bonuses!! Whatcha waiting for? Head over to the forum!! There's many more challenges you can do as well!
*** Layout of the Week ***

Tiffcat won this week's "layout of the week" with the layout below. She's the winner of a $2.50 coupon to the store!! Woohooo ... great job!!
Isn't that sweet?
*** FREEBIE TIME ***

As I mentioned, I'm having a blast working on "Oohhh Baby!" - so I created a quick page for all of you!!!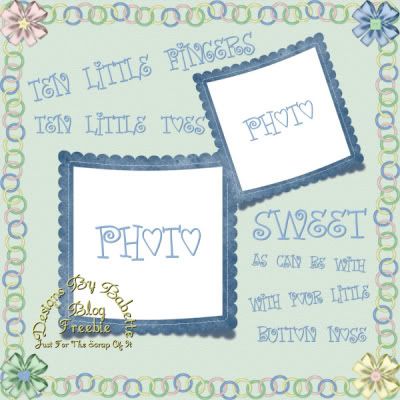 Ok, not to sound boastful - but I just love it! LOL I'm only leaving this up until Monday morning ... so don't miss out!!
You all have a great weekend - don't forget to come over to the forum for fun and games!!!
Hugs,
Babette