7/15/2008 01:46:00 PM Posted In
Freebie
Edit This
Wow! What a crazy week this has been! I've determined that Mike LOVES the doctor and emergency rooms! LOL His latest escapade? He was walking in the house, with sandles mind you, and somehow managed to hit is toe up against the coffee table and rip his toenail off! LOL Well, okay I took care of it - wrapped it and all. Next morning it's looking a little worse, by nightfall he was on his way to emergency clinic! Yeppers, it's infected and will be on antibiotics for 10 days!
My allergies are going completely crazy and due to the smoke from the fires at the Great Dismal Swamp (which is about 30 miles from Virginia Beach), I can't really go out of the house! It's a real pita, although they say they are 95% contained now and it's nearly over. My eyes literally leak and tears roll down my face. LOL Makes designing an interesting proposition, let me tell you!!
I've got a couple of new things in the stores. First up is my newest COMMERCIAL USE grab bag - #14.
You'll find some yummy goodies in this! Even if you're not a designer, you'll find that all of these products can be very helpful for a scrapper as well! I've decided to do an early reveal and give you all a look at what's inside:
Alpha Template
Crafty Designer Trims
Toy Chest Brushes
Gem Stones
Build A Paper
Industrial Style
The value of this bag is $36 - so quite a steal at
$5!!
You can get yours, through the 18th, at:
Okay, next up? Some Absolutely Fabulous Textures! These are commercial use and they are so great, that's what I named them! LOL Right now you can get them for 59% off - only $6.99 each for one week before they go to their regular price of $16.99. There are 12 amazing textures in each pack!
Volume 1
Volume 2
Don't miss out on these extraordinary values, you'll seriously love them! I'm currently working on a 3rd volume as well! :)
*** Freebie Time ***

Today's blog gift is a blast from the past!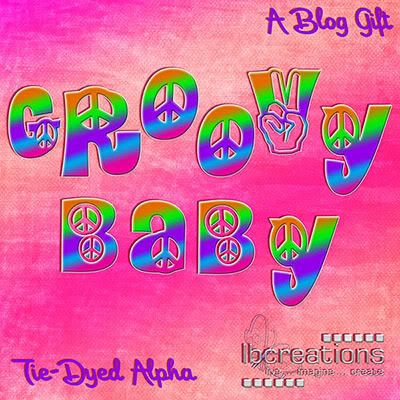 A Tie-Dyed Alpha! I thought it was fun & different and would be really cool on layouts! This gift will remain available thru Monday, the 21st! Make a vintage layout that's "Groovy Baby!" Oh, and if you do - I'd love to see it!
Email Me
and I'll get it up on the blog for others to see!!
Oh, I guess you need the link, huh? LOL
(( Edit: 8/4/08 - Link has expired ))

You all have a great day! I've got some more surprises coming soon and I'm sure you'll love them!
Hugs,
Babette