9/12/2008 02:03:00 PM Posted In
CU Freebie
Edit This
Hi All,
Well, I haven't really been feeling 100% and wasn't up to creating a grab bag this week. My back just hasn't been able to handle sitting at a PC for very long. Then, I was talking to a friend and we were discussing how expensive things have gotten - you can't even go grocery shopping w/out a taking out a loan! So, I decided to have a huge, blow out sale of my products. Now is the time to stock up on all those items you may have had on your wish list! Everything in my store at
Divine Digital
has been marked down to $2 each! Yeppers, all my commercial use stuff is included.
Pick & choose from over 400 products - ALL just $2 a piece!
Remember, all my products are also S4H-O friendly and
NO CREDIT
is ever required! You really can't go wrong with this sale. The sale is running today (Friday), Saturday, and Sunday. Don't miss out! Visit my store today at
Divine Digital
and stock up with these fantastic bargains!
*** BLOG GIFT ***

I do have another CU Sampler Pack for you all! Number 7 has 1 texture overlay, 1 dotted overlay, 1 floral border overlay, 1 floral photo overlay, and 1 frame!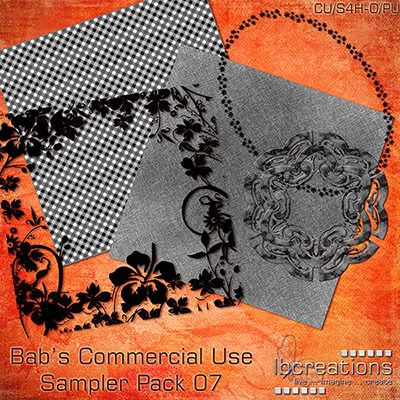 I hope you enjoy these products, and if so - please consider visiting my shop during this sale; I would very much appreciate your support. This sampler pack will be available through Sunday.
(((Edit: 9/16/08 - 9:00 PM, EST - Sorry, this sampler has expired)))

You all have a great day and a wonderful weekend!


Hugs,
Babette