9/24/2008 06:35:00 PM Posted In
Freebie
Edit This
Hi All!
Thanks for all your lovely comments on my new kit! You guys are all terrific and I truly appreciate each and every word. I'd love to see any layouts that are created. Please feel free to email me! Here are a couple more to share with you!
From Shannon:
Isn't her daughter just too adorable?
From Fantasy: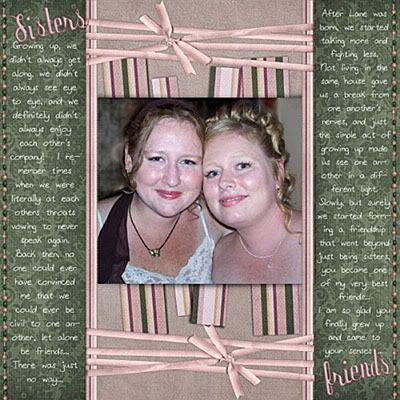 I thought that the journaling was just too sweet!
** I'M THINKING **
I've been thinking lately that I really need to get some sort of exercise program in my life. I sit at this desk way too many hours! I found out that our local community center has a great deal on gym membership - only $65 a year for entire families! The have an olympic size swimming pool, full gym, etc. So, I think I'm going to go down and sign myself up ... even if I only go swimming (my favorite) then at least I'll be doing something, right? I'd love to hear from those of you who have some sort of program and how you keep motivated. I fear, that's going to be the hardest part - making myself STOP working and go out to do something healthy for a change! I think getting more active would also help with the aches & pains.
***FREEBIE TIME***
So, I was in a "mood" today and didn't really feel like "working" ... and so many people had such nice things to say about the new kit, so I created a quick page from "God's Presence" to share with everyone!
I thought it came out pretty, if I do say so myself! lol I hope that you can use it and enjoy it! This is PU & S4H/O only.
(((This gift is no longer available.)))
You all have a great evening! Mike & I are going to I-HOP (i'm in the mood for breakfast!) and then going over to visit a friend who broke her ankle on vacation and is coming home tonight!
Hugs,
Babette