7/07/2009 12:25:00 PM Posted In
CU Freebie
Edit This
Hi Everyone,
Today's definitely one of those "blah" days for me. I'm not feeling 100% and I guess I'm still pretty tired from everything that I've been trying to accomplish. Janet is definitely settling in ... she went to the supermarket herself! Now this may not sound like much of an accomplishment, but for someone who was pulled out of a rural area and not accustomed to city traffic - I'm super proud of her! :)
I've been working on some new products ... but still have to do previews, upload to stores, etc. I'm not really too motivated to do anything. I'm definitely in some sort of a slump ... maybe it's cuz of summer and the lack of sales? Who knows?!
I created another overlay as a blog gift for this week. It's a really nice texture overlay that would make a nice foundation for any paper.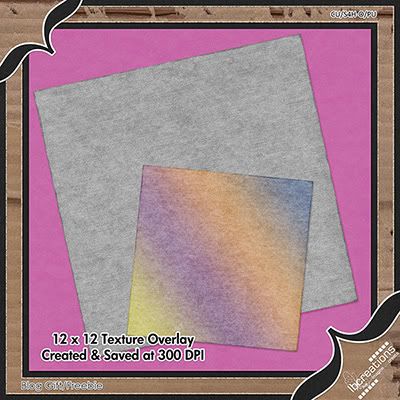 I hope that you enjoy it. As with all my CU products, no credit is required - although definitely appreciated! :) This freebie
has expired.
Take care & have a great day!!
Hugs,
Babette
LBCreations - Designs by Babette