7/19/2009 11:20:00 AM
Edit This
Hey All!
I hope everyone is doing well! The weather here in Virginia Beach has been a bit muggy - really high humidity. So I've been hiding out in the house ... a/c is my BEST friend! lol
I did, however, have an appointment with a new
Endocrinologist
last Wednesday. He was touted as being the "best" one around (took 3 months to get in to see him!) and while he seems to really know his stuff, he beside manner is less than good. But, he prescribed a new drug (well, knew to me) for my hypothyroidism ... in addition to the
Synthroid
I'm now also on
Cytomel
. He claims that for many patients who aren't getting 100% benefits from synthroid alone, this has really helped. Well, so far I am seeing an increase in energy - so that's a very good thing! With the increase in metabolism ... there should be an increase in losing weight!! Yeah, I'm definitely ready for that!!
And along those lines, I've decided to join
Weight Watchers
. I followed the program years ago and really liked it. I know it's probably changed a bit, but I'm really hoping to meet some people who would like to exercise together ... it's so much more fun if you have friends to do it with. It costs $40 a month ... and that gets you unlimited meetings plus access to their E-Tools. It looks like a pretty good deal ... if anyone is doing WW's I'd love to hear what you think of it. They have a Saturday meeting which I think will be perfect for me (starts at 11:30 ... so, not too early!) so I'll let you know how it goes next week.
More news ... I've decided that from now the blog gifts/freebies that I post will always be available. I'm also going to start posting tutorials ... so if there's something special that you'd like have a tutorial for, please drop me a line and I'll see what I can do! I've got a tutorial ready to share with you ... I wrote it last year for a customer - it's about re-coloring gray-scale elements.
There are many ways to do this, this technique is one of the easiest ways.
Download Tutorial Here
Okay, time for some FUN! I thought it would be really cool to give away one of my CU products to a lucky winner once a week! You're probably wondering what you have to do to win, right? Well, it's actually pretty easy - all you have to do is leave a comment on my blog and I'll pick someone randomly from all the posts of that week. Oh, and remember to post on the blog ... the comments are at the TOP of the post, not the bottom ... that will be the prior post's comments.
What I'll do is this: Each Monday I'll start off the week by posting the Blog Prize. All you have to do is leave comments during the week and then at the end of the week (Sunday night) I'll pick a winner from those who have left comments (I'll go thru all the posts of that week). On Monday I'll announce the winner along with the next Blog Prize .... how fun is that?! Remember, you will have to leave your comment on
MY BLOG
, not 4-shared. Also, if you post annon, please make sure there is a way for me to contact you!!
Okay, so let's start this week off right! Here's
Blog Prize #1
....
How's that for starting things with a bang?! This a $14.99 value!! Don't forget ... you have to comment on my blog this week for your chance to win "Absolutely Fabulous Textures 01" available at
DSW
,
DD
, &
CU
.
And hey, I've got a
new product
out!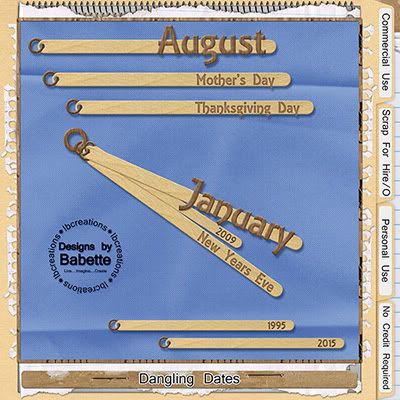 Dangling Dates
is the perfect addition for journaling needs! Included are: 26 Holidays, 12 Months, and 21 Years (1995 - 2015). Also included is 1 blank year stick and 1 connecting eyelet. CU/S4H-O/PU. Normal priced at $4.99 ...
Dangling Dates
is 20% off for 3 days only (through 7/22/09)!! Hurry and get yours at:
DSW
,
DD
, or
CU
.
And the moment you've been waiting for ... The
Blog Gift/Freebie
!! Today I've got "Popsicle Expressions" for you:
I created this freebie with my "Popsicle Sticks"
which is currently in the stores at
DSW
,
DD
, &
CU
.
This blog gift/freebie is CU/S4H-O/PU ... and oh yeah, doesn't expire
ever
! :)
Click To Download
Phew! Dang, that was a long post! LOL LOL I hope you guys enjoy the Popsicle Expressions and don't forget to comment for you chance to win the blog prize! Take care & Good Luck!
Hugs,
Babette
LBCreations - Designs by Babette