7/26/2009 10:08:00 AM
Edit This
Happy Sunday Morning!
I attended my first Weight Watcher's meeting yesterday ... and it was FABULOUS! The leader, Karen, is super high-energy, funny, and very nice. She's originally from New York (as I am) and I felt right at home. I'm feeling very positive and I can't wait to report some weight loss! I'm going shopping today with a friend to pick up some grocery items to help in that! Oh, and WW's has these E-Tools ... I played around on the site a bit last night and it's really cool. You can track your points right there, get recipes, post on the forums, etc. I've already met some really cool people!
I've figured out how I'm going to
RANDOMLY
pick a comment for the Blog Prizes! Guess you'd like to know how I'm going this, huh? *smiles* Okay, for starters all of the comments left on my blog get sent directly to my Outlook Mail. I created a special folder where all of those emails (from any and all posts of that week) will get sent to directly. When it's time to pick a winner, I'm going to have Mike (DH) just pick one of the emails
without reading the comments
- that way it's completely fair! How does that sound?
But I've got a
SURPRISE
for you guys! Since this is my 1st Blog Challenge/Prize that I'm offering, I thought it would be way cool to give out the prize to more than one person. Soooo ... I'm going to have Mike pick out
FIVE
!! That's right,
five lucky people
will win "Absolutely Fabulous Textures #1", a $14.99 value, for FREE! Just for posting a comment on my blog!
Winners will be announced on Mondays, along with the next blog prize to play for. Winners will also be contacted and given the happy news via email or their blog - depending on the information I have.
Individual coupons
will be issued (from one of my stores) to each winner for the prize.
I'd also like to take a moment to thank everyone who has posted. It's really wonderful to hear from you and I'm super glad if I was able to help anyone with the info on Cytomel. So, it's really doing wonders for me. Thanks to everyone who's sent me support about my health; it's very touching that so many of you care!
Hey! Did you notice something new on my blog today? I finally added a "Followers" widget! Now you can follow my blog and never miss out on a freebie!!
I'm also really happy to see such a great interest in tutorials! Many of you have written me privately and told me that they were easy to follow and I'm SO happy to hear that! Please keep letting me know what you'd like to see offered and
I'll do my best
to fill those requests. AND, all of the kind remarks concerning my work were so greatly appreciated - it's really so nice to hear that people enjoy one's work and/or products.
It was so much fun hearing from you guys! Connie C, I can't believe that you have TWO people in your family named Babette ... it's just not the most common name! And Shan Marie - how cool is it that we live in the same town? Who knows, maybe we'll hook up one day!
I've got another Tutorial today!
This time the request came from "Okietoothfairy" and she wanted to know how to blend PNG overlays, which are black, into a colored pre-existing paper.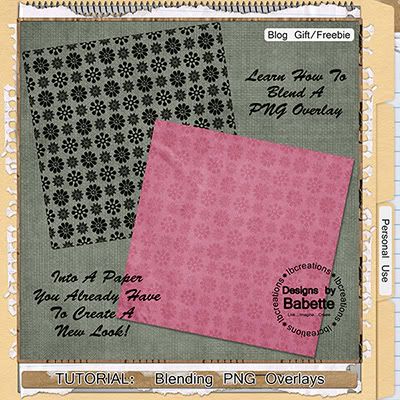 DOWNLOAD TUTORIAL
I've included the PNG Overlay in the tutorial zip file (It's from Paper Details 72). I realized that it was going to be just a bit more work to keep doing these separately. I apologize to those who want the freebie without the tutorial, but I've only got so many hours in the day! LOL Also, please note that the tutorials are
PERSONAL USE
only.
I did, however, create ANOTHER freebie for you guys! It's an adorable tag that I created when I was making a layout for a friend. To create this tag I used
"Basic Textured Overlays, Vol. 1"
,
"Bows 04"
, and my
"
Gem Stones"
.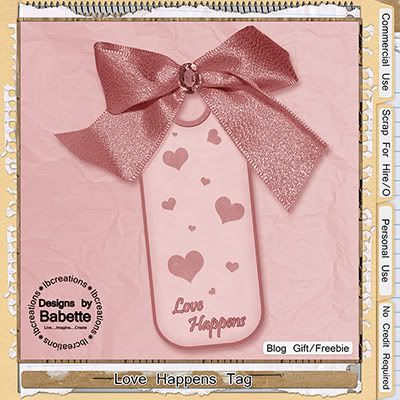 DOWNLOAD
Okay, I *think* that's enough for now! Enjoy the tutorial and freebies - I'll be back tomorrow to announce the winners and post the new Blog Challenge with the prize! You all have a GREAT day & take care!
Hugs,
Babette
LBCreations - Designs by Babette