10/01/2010 12:01:00 AM
Edit This
I wasn't sure if I was going to blog about this, but I figure that some people might be wondering where I've been. Sadly, my MIL passed away this month. It was very sudden and we were not expecting it in the least. We were, in fact, getting our house ready to have her move in. We had just converted one room into her bedroom and had installed some stuff in the bathroom for her. Although she wasn't in the best of health, we really didn't see it coming. I won't go into all the details, but I do want to thank everyone for their prayers and words of comfort.
I've put in a few new products into the store since my last post - images are linked!
Now for the fun stuff! At the beginning of the month I told you all how I joined Digitals ... well, we're celebrating SIX years in business with a huge Birthday Bash!! To start there's a 30% Store-Wide Sale!
Of course, what's a celebration with GRAB BAGS? I've got two grab bags in the store as well ... one is CU and the other is PU:
The value of the bag is $21 when revealed - don't miss this deal!
The value of this bag is $9 - another awesome deal!
In addition, to celebrate the occasion, all sorts of wonderful activities are planned. Go
HERE
and read all about it! My part in the Challenge Kit is a set of styles:
You can get these by participating in one of the challenges!
There's also going to be a
scavenger hunt
... and I promise, you'll love my gift --- if you can figure out where it's hidden! lol Don't worry, the clue won't be that difficult! :)
You don't miss our BB6 Celebration Crop Saturday, October 2 from 1-3pm EST! There will be games, prizes, challenge, freebies , chatting, and fun!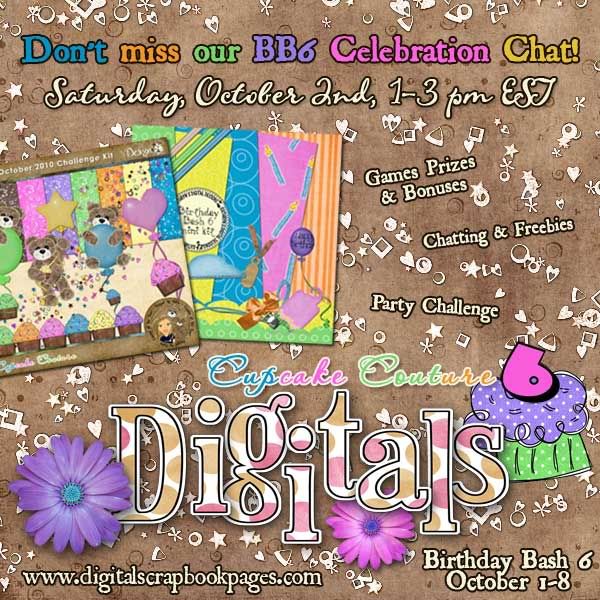 Check out the prizes (
I'm sponsoring a
$10 coupon
to my store!)
you can win here!
And finally, many of the designers are offering a
blog gift
to kick off the celebrations ... here's mine:
This freebie will only be available Oct 1st - Oct 8th. Visit
these designers blogs
and pick up some more goodies!
Thanks for stopping by ... hopefully I'll be back soon!