8/27/2007 03:36:00 PM Posted In
Freebie
Edit This
Hi All!
Oh wow ... already starting to get layouts in the gallery using the mini sampler! This is going to be so much fun! For those of you who don't know what I'm talking about --- scroll down to yesterdays post for a freebie mini sampler of my new Mega Kit "Lip Smacking Delicious" - and info for a chance to win it!
Today's freebie is the 1st in my series of RED templates! I figured we did blue, so why not go thru colors? LOL Here, take a look - as always, you get bonus elements!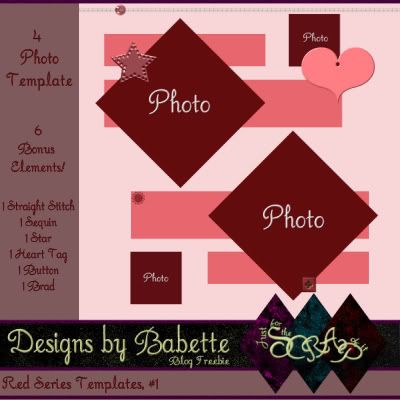 Cool, eh? You can get yours but hurry - this freebie is available for only
24 hours
before it gets placed in the shop!
(((so sorry, this freebie has expired)))
I'm a bit rushed for time, so I'll post layouts tomorrow! You'll have a GREAT Monday!!!
Hugs,
Babette