10/11/2007 12:40:00 PM Posted In
Freebie
Edit This
Hi Everyone!!
Many thanks for all the birthday wishes sent to Mike (DH) - he was very appreciative and wanted me to make sure that I told you all "thanks" from him! I also want to give thanks for all the lovely comments that I received - again, it's wonderful to read them all!
*** DESIGN NEWS ***

Cranberry Dazzle is done!! I uploaded it last night and I've put it 20% off until Monday!! So,
Get all glittery, shiny, and sparkly with this beautiful kit – it's perfect for any of the "Divas" in your life - young or old! There are 13 gorgeously textured and patterned papers combined with 53 lovely elements that will be sure to please! Here's the preview:


Purchase Cranberry Dazzle Here
Tomorrow I'll be releasing my Commercial Use Grab Bag ... you won't believe the value!! Stay tuned for futher updates!!
*** SITE NEWS ***

Contest News
Brandi and I decided that the contestants got a trial round!! What does that mean??
EVERYONE
gets to go on to Round 2!!!! The contestants are busy plugging away creating their Round 2 kits!! The Round 2 gallery will be opened when all the contestants have their kits uploaded....so keep your eyes peeled! We want to wish all our contestants GOOD LUCK in round two! Six contestants will be eliminated in round two - so make sure that you vote for your favorite!!!!
Challenges & Exchanges
Have you been over to the forum to check out the challenges? There are some great participation prizes! The QP exchange is also in full swing - what a wonderful way to get a huge album all ready to go!
*** FREEBIE TIME ***

I'm just LOVING this QP!! I had a blast creating this one!! It's the 4th in the series of QP's created from my mega kit "Halloween Fever." Here's a look: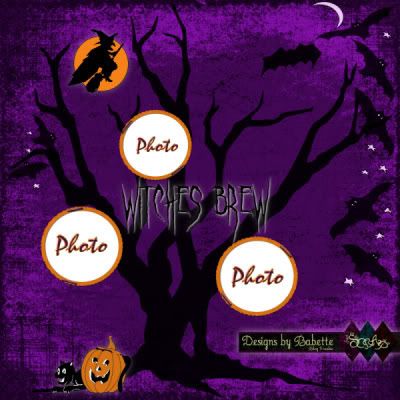 How fun is this one?? It will be available for the next
48 hours
- then it's off to the shop!!
(((so sorry, this freebie has expired))
I hope you use and enjoy it!! You'll take care - cya tomorrow!!
Hugs,
Babette