10/16/2007 04:19:00 PM Posted In
Freebie
Edit This
Boy ... I'm super behind today!! I feel like I'm chasing my tail!! LOL So much is going on and it's all so exciting!! Our membership at the site is up to 1400!!! I'm so totally thrilled!! Voting is going on ... and the forum is getting busier and busier!! We've got all sorts of new programs, contests, and challenges that are starting or will start soon!!
***** SITE NEWS *****

First off, we have a new posting program. For the first 400 posts, at 100 post intervals - members will receive a mini kit. At 500 posts, they receive a $5.00 gift certificate! THEN at 1000 posts - you earn a $10.00 gift certificate!!! How cool is that??!!
We are also starting a "layout of the week" contest, a "scrapper of the month", and a "newbie of the month." The Layout of the week winner will receive a $2.50 gift certificate and the chance to be the "Layout of the Quarter" winner with a $10.00 gift certificate! The winner of the "Scrapper of the Month" becomes a guest CT for the following month!!!! Of course, we have all the challenges in place and we're planning something EXTRA special for the beginning of next month!!!
Oh, and we're planning all sorts of chats as well! I'm doing two of them on Thursday - one at 2pm and again at 10pm - both EST. It's basically a "get to know you" chat ... with a participation bonus!!
Kori is planning one for Friday, and Liz has got one for Saturday - and Brandi has a bingo chat in the works. Stay tuned on the forums for more updates on upcoming chats!!
*** SO ... YOU THINK YOU CAN DESIGN? CONTEST NEWS ***

The Designer contest is going well ... but not enough people are VOTING!! It's so important to vote for your favorite designer so that they move forward to the next round!!!
So please get out there and VOTE!! *grins*
***** SALES *****

We're still running many specials ... a great time to take advantage of some really AWESOME kits!!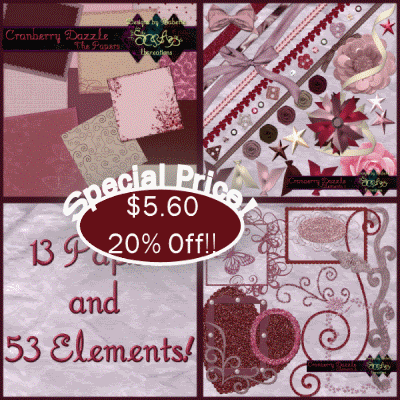 Aren't they great??
Oh, and don't forget about the Grab Bags - we've got three in the store right now!!! They are available until the 22nd - trust me - you DO NOT want to miss these!!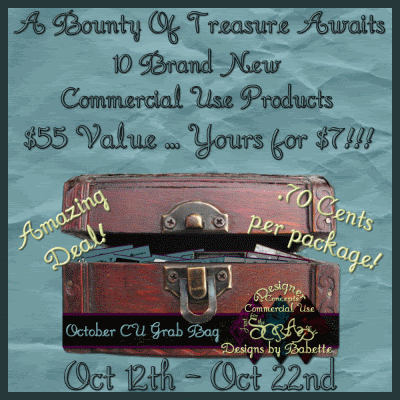 You just won't believe all that's included!!! A must have for even the personal scrapper!!!
***** LAYOUT SHINES *****

CT member Catherine has created this adorable page using my "Halloween Fever" Mega kit: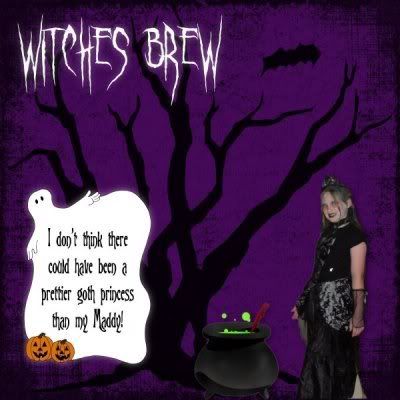 Awesome, isn't it?!!
***** FREEBIE TIME *****

Thanks to all of you who have left me such cool comments!! I'm thinking of upgrading 4-shared and if so, the downloads will be direct and I don't think there will be a place to leave comments. I'm still unsure of that ... if so, comments will need to be left on blog itself. Which is nice as then I'll always have them!!! But, I hope that doesn't inconvenience folks. But the downloads should be faster!! LOL
Today I'm offering the 2nd QP in the series of the "Cranberry Dazzle" mini album! I'm so thrilled that so many of you are enjoying them!!! Here's a preview:
I'm actually pretty "dazzled" by this one!! Remember, it's only available for the next 48 hours - then it's off to the store!!
Hugs,
Babette