11/14/2007 01:04:00 PM Posted In
Freebie
Edit This
Hello Everyone!
My goodness - I certainly seem to have gotten a great response from "Just for Fun!" Thanks for all the awesome comments!! You guys rock!! I'm really happy to read that you all have found my kits so pleasing and fun!! It's very gratifying, as a designer, to know that you've created something that bring even a small amount of joy into someone's life.
*** NEW PRODUCTS ***

I've got another new Mega kit out --- Oohhh Baby! It's really large and just so dang cute! Take a a look: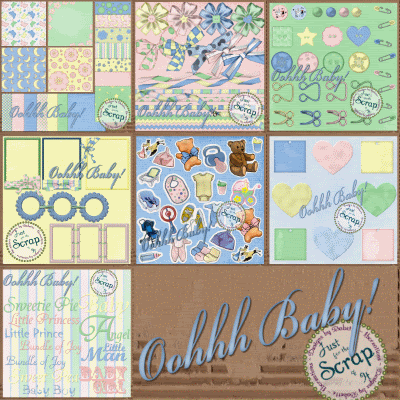 I'm doing something a little different - you can purchase the entire kit - but, the packs are also available "a la carte." So, if you just want the papers and stickers - for example - you can just get them! Cool, huh? The separate packs are all listed in the "sprinklings" category of the store.
*** THE CATWALK ***

Today I'm featuring Heather's latest two layouts. One is of her son, using my "Pour L'Homme" kit and the second is a lovely tribute to her mom using my new kit "Strawberry Kiss."
Didn't she do an awesome job on both of them??? Heather is definitely
strutting
her stuff!!
*** GRAB BAG ***
Just another reminder (do I hear the collective groan? *wink*) that my commercial use grab bag is in the store. It's truly an awesome value and will be a wonderful addition to anyone's toolbox. You really won't be sorry if you pick this one up!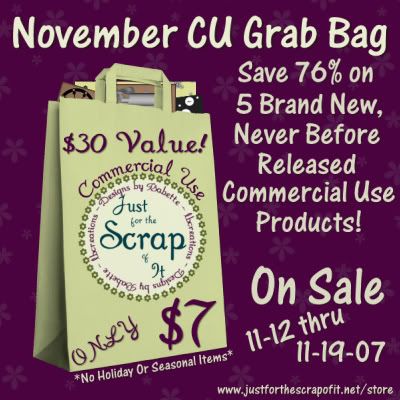 *** FREEBIE TIME ***
Okay, so many of you know me ... and know that it's very rare for me to do a "small" kit. Well, "Just For Fun" is well ... just too much fun! I created a part 2 and am working on part 3! LOL

Isn't that fun? This will remain available for the next 24 hours - then it goes for sale in my shop. Don't delay on picking this one up! :)
((So sorry this freebie has expired - it is available for sale in the shop))
Until next time, you all take care!!
Hugs,
Babette