11/21/2007 10:50:00 PM
Edit This
I'm back!! Did you miss me? Blame it on the FLU! Totally not fun, believe me! For some reason, although it was considered "mild" it really dragged me down. I'm on the mend though … so yippee!
Is everyone ready for Thanksgiving? Or better yet, Black Friday? Personally, I'm staying home and shopping online! *smiles* I don't think I'm up to that exercise yet! LOL Good luck to those of you who brave those sales!! I'm impressed with each of you – I just don't think I have in me, flu or not!
Speaking of Black Friday, Just For The Scrap Of It, is holding a 50% off sale Friday and Saturday! 50% off the entire store – including commercial use!! Wow – can you beat that? Some new designs have also been added, come over and talk a look!
Okay, still don't have too much strength, so I'm gonna make this short …
Last week I gave out parts 1-3 of my new mega kit "Just for Fun." Each part is an individual mini and priced at $1.98. Parts 4-6 are now available for sale. Today, I've got a matching frame for "Just For Fun" – this will not be included in any of the packs available in the store – it is an "exclusive" freebie! I'm going to leave this one up until Sunday morning! Take a look!!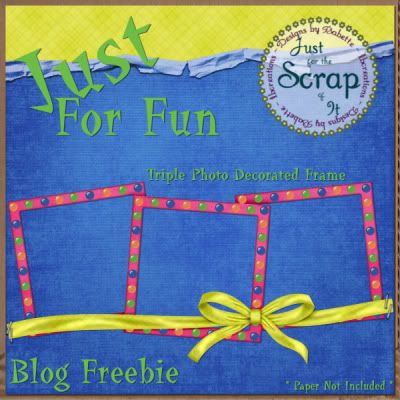 Enjoy the freebie and I hope to see you at the store!
For those of you celebrating Thanksgiving – have a wonderful day filled with love, family, and friends!!