5/10/2008 03:14:00 PM Posted In
Freebie
Edit This
Hello all my friends in cyberland!
Hope you are enjoying your Saturday! I'm, of course, still unpacking. Amazing how much JUNK one accumulates over time! What's worse, I don't consider myself a pack rat by any means ... so where does it all come from? And why was it packed in the first place? Why not get rid of it BEFORE packing it up? These are the questions I'm pondering lately! lol
In the meantime, Mike has developed this nasty rash and it's spreading all over his body. He's been absolutely miserable and today, finally, he's decided that going to the clinic is a good idea ... why do men take so long to go to a doctor?
As usual, I've been a busy bee. I've got a new styles grab bag out - FIVE fabulous packs, with a total of 30 different styles. Now, these are NOT simply the same style in different colors ... these are all unique styles. Seriously, you will not be disappointed! This is a $25 value, for only $5.00!! How can you go wrong?
Don't forget, I also released a new "regular" CU grab bag as well. It's got SIX wonderful designer goodies that you will love to have in your toolbox! A $30 value for only $5.00!! Hurry and don't miss out!!
Now if you missed my last grab bag (#5) you can still pick it up as a bundle! It also has 6 designer tools and I've priced it at only $12.99 - which is 57% of the retail value!
Have you all checked out my challenges over at Divine Digital? You can read all about my challenges on the
Forum
at Divine Digital. There are a couple of freebies to be had and I've got "Beauty Naturally" on sale for 50% for the quick page exchange. Even if you don't wish to participate in the exchange, this is a great deal on the kit! Here's a look: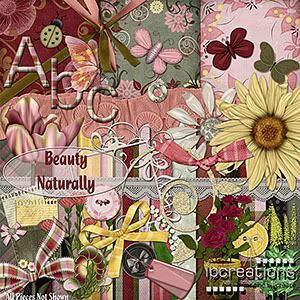 You want it now, right? You can buy yours
HERE!
Edit: Okay, I'm a moron ... I forgot all about the Mother's Day I was going to promote! Save 50% on all order of $25.00 or more!! This includes all commercial use!! Only available at Divine Digitals!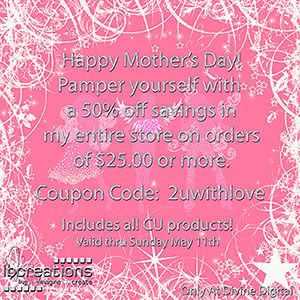 *** FREEBIE TIME ***
I hope that everyone is enjoying the "surprise" freebies ... and I want to thank each of you who have been so kind as to leave me comments! They really mean a lot of me and I so appreciate them!! Great big hugs to all of you!!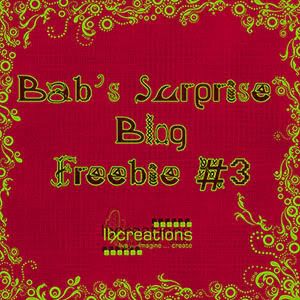 Today I've got part 3 ... and I think you're really gonna like it - in particulary one of the elements included. At least, I hope you will! LOL Again, I'll leave this one up until I post the next one. Enjoy!!
Well, you guys enjoy the rest of your Saturday - and have a wonderful weekend! Do something fun, while you think of me unpacking ... *sigh* :)
Hugs,
Babette