5/12/2008 11:59:00 PM Posted In
Freebie
Edit This
I hope everyone had a fantastic Mother's Day ... and that you got spoiled! Mom's certainly deserve to be pampered AT LEAST once a year! You guys are fabulous and I take my hat off to you!
Well, the results are in ... Mike's rash is due to some sort of medicine allergy - and of course, we have no idea which one! This is not fun and it's getting worse ... poor thing is starting to look like a leper or something!! Doctor gave him some medicine (yeah, more!!) and hopefully things will start to clear up. Thanks so much to those of you who asked about him; and/or sent well wishes!!
I've got the 4th part of 7 ready to go ... I think you're gonna like this! *smiles* At least I hope so, not too many comments about #3 - maybe it was not well liked?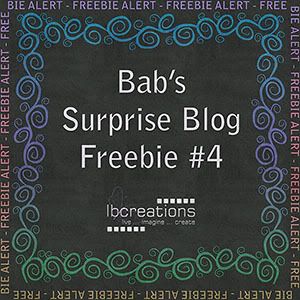 You can get yours
HERE!
Everyone have a great (insert time zone!) - and I'll cya soon!!
Hugs,
Babette