5/05/2008 03:26:00 AM Posted In
Freebie
Edit This
HI All!
Okay, it's official ... unpacking sucks big time! Especially when you're trying to run a business from home! The house is gorgeous and I LOVE my new office (windows in both directions!), but I really wish I had a genie or something to wiggle their nose and make is all better! *smiles* I'm really looking forward to the time when this is all a distant memory!! lol
I'm hosting a chat tonight "Demi Tasse" at Divine Digital and you'll should definitely check it out! I've got a participation gift for all those that attend ... I'd love to meet you all!
The featured kit is "Delightfully Unique." Buy half the kit for $3.50, create a layout and post it, and I'll send you the other half of the kit for FREE!! Attend the chat and you'll receive an attendance gift - what could be better? This challenge is open until the end of May. All layouts MUST be posted by May 31st to be eligible to receive the 2nd half for free. Please post in the forum when you post the layout! You can get your DEMI TASSE kit
HERE!
One you complete a layout, post it in the gallery and then post in the forum
HERE!
All 2nd halves of the kit will be distributed when a layout is posted and a comment has been posted in the forum.
Today is the
last day
to pick up my Commercial Use grab bag. I got to tell you, it's SOOO worth the 5 bucks! This is a true $30 value ... designer and scrapper alike will be extremely happy to have this bag. Remember, all my products (including my kits) are S4H friendly as well.
*** KIT ON SALE ***
Purchase Beauty Naturally At Divine Digital
This is a gorgeous kit and it's on sale for the month of May for only $4.50! It's the featured kit in the Quick Page exchange at Divine Digital ... so join the exchange and get some free quick pages too!



*** FREEBIE SURPRISE TIME ***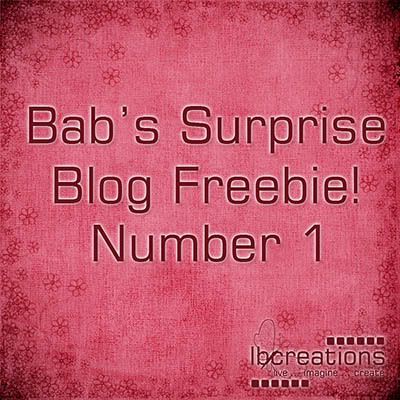 How is this a surprise? Well, I'm not showing you a preview! I'll give you a hint ... "think SPRING." I've got SEVEN zip files to this surprise ... so be sure to stop by and get all the pieces! I'll leave the freebie up until the next part gets put up ... each part will be available NO LESS than 24 hours - but could be more. I'm actually still adding to this surprise ... so, you never know how big it will grow! LOL
Sorry, this freebie has expired.

I'd really love to know what you think ... so please leave me a comment! I'll cya laters!
Hugs,
Babette