7/31/2009 04:55:00 PM
Edit This
Hi Guys!
I've got another tutorial that was requested by a blog-reader. She wanted to know how to put a border around her photos.
<----- TUTORIAL ----->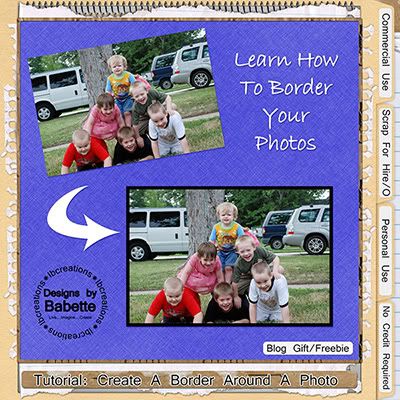 Download Tutorial
I decided that since I joined Weight Watcher and was on this journey ... I should create a whole new blog for it! I'll be posting about my weightloss journey - and hopefully some tips, recipes, etc. to help inspire others! Visit me at
"The Weightloss Chronicles"
... it's kinda lonely there!
<----- FREEBIE ----->
I was playing around and made a lifted frame ... kraft paper & glitter, what could be better?
Download Lifted Frame
You guys take care & have a great weekend! Remember, I'll be announcing the winner of Blog Challenge #2 on Monday. There's still time to win! Winner will be selected from
all the comments
left on my blog from the entire week. Good luck!
Hugs,
Babette
LBCreations - Designs by Babette